Crumble Jimson
is the Escort for
District 2
.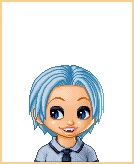 Description
Edit
Crumble is a goofy fellow who enjoys District 2 and their love for the Hunger Games. Cumble is a gentleman and a charmer for the ladies.
Crumble is named after two male meerkast from the Colobians Mob but later formed the Ewoks. Crumble's last name comes from his brother E. Jimpson Murgatroyd.
Like all the Escorts for the Revive the Dead Games, Crumble was named after a living meerkat, however his brother had disappared.