Logan Hawkeye
is District 5 male tribute for the
100th Hunger Games
.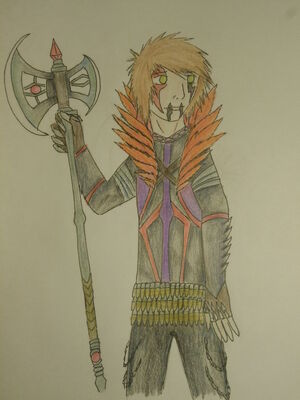 Description
Edit
Logan was a tall with brown hair, hazel eyes and very muscular 17 years old. Quick thinkering he preferred to think things through before doing things. He also had a soft spot for kids, yet at times Logan may be a little too trusting and he was poor with ranged attacks. His weapon was a battle axe and he knew how to use it well. He was originally from District 13 but he and his younger brother Mitch were forced to move after their parents died to live with relatives in District 5. Logan was reaped into the 100th Games forcing him to leave his younger brother Mitch behind.
Hunger Games
Edit
In the Games, Logan made an alliance with several of District Tributes which included; Clarabella Keen from District 6, Dewayne Shade and Callope Shade both from District 7, Marine Hier, from District 8, From District 9 Serene Viola aka Fish, District's 10's Georgey Dirkson, Quincy Williams from District 10 and two Tributes from District 13 Brynn Mantis and Jett Mantis. Logan's alliance was lucky to gather a large amout of supplies which caused him to decied not to go to the First Feast for more supplies because he believed the risk wasn't worth the gain. His alliance had enough supplies already, still a few of his alliance partners left to the Feast. One by one his Alliances got picked off as the Games conintued till only he and Marine remained. Logan receaived a few gifts, a bow and arrows which he was not good at using and a axe that he used to kill Adrianna Thorn from District 3 with after she had killed Brynn. Logan made it to top 4 and won the Games along with Marine from District 8, Drajdah Wallace of District 9 and District 10's Zanna Vinland.
Dead Games
Edit
After the Games and before the Victors Tour, Logan started to have strange dreams about shadowy figures that just stood around him. Evenually he came to realized these were the fallen Tributes of the 100th Games and prior. Soon during the Victors Tour all things became clear to him and he soon met the Albino Lady and the demon.
Name: Logan Hawkeye
District: Originally 13 but moved to 5
Gender: Male
Age: 17
Weapon(s) of Choice: Battle Axe
Skills: Quick thinker and thiks things through, he is strong and good with close ranged attacks
Weaknesses: Too trusting and no long ranged attacks
Logan is named after a male meerkat from the Whiskers, litter-mate brother to the world famous Mitch. He played Einstein on Meerkat Manor. His last name comes from his litter-mate sister Hawkeye, who played Rocky.
Strangely during the 100th Hunger Games, Logan was mentioned to have a sister instead of a brother.