Ricou Ilanga
is the Escort for
District 1
.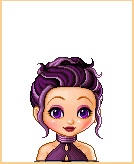 Description
Edit
Ricou loves the color purple thus she wears it often and even has purple hair. She is kind and caring towards her tributes she reaps, even though District 1 tributes can be a bit snotty. Ricou is very patient.
Ricou is named after two female meerkats fromt he Sequoia Mob, Ricou and a younger sister Ilanga, both which are in the splinter group Überkatz Mob.  
Like all the Escorts for the Revive the Dead Games, Ricou was named after two living meerkats.